The Team
Join the team
We sometimes have research student and other opportunities available and we also welcome collaborative projects using the data we collect, please send enquiries to virpi.lummaa@utu.fi
Principal research staff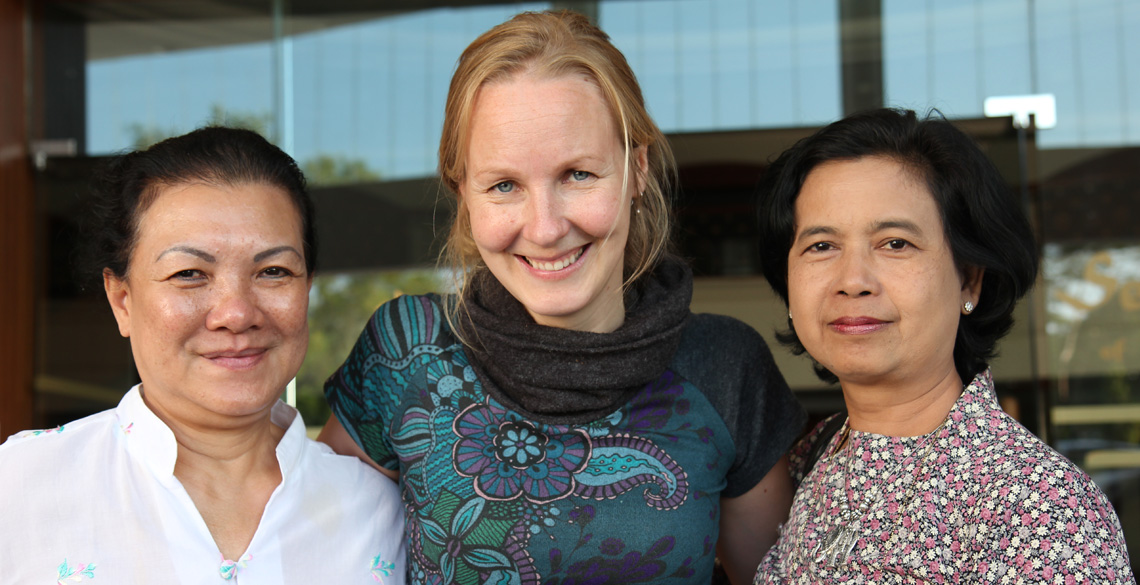 Prof. Virpi Lummaa
Virpi is a professor at the University of Turku and the principal investigator in the Myanmar Timber Elephant Project. Her research has focused on the evolution of senescence and life histories, primarily in humans using a large historic genealogical dataset she has collated from her native Finland. She has used this experience to establish the Elephant Project at the University of Turku, Finland, funded by the EU's Horizon2020 / ERC (European Research Council) Consolidator Grant 648766.
The long-term aim is, in collaboration with the Myanmar Timber Enterprise, to utilise the unique opportunity to establish a longitudinal study on Asian elephants employed in Myanmar timber camps to address questions ranging from demography, social behaviour, welfare and conservation, ageing and life-history patterns to veterinary topics in this endangered species.
Email: virpi.lummaa@utu.fi
Tel: +358 504382 044
Dr. Khyne U Mar

Khyne, affectionately titled "The Elephant Lady of Burma", is a Postdoctoral Research Associate at the University of Sheffield. She is an experienced Myanmar-born veterinarian who has been collecting data on the Myanmar timber elephants for several decades, and has compiled a unique demographic database over the past 15 years. She has also worked as consultant veterinarian for captive working elephants in many SE Asian countries and in zoological collections in both the UK and Asia. Dr. Mar holds a PhD on Myanmar elephant demography from UCL and has worked as a vet on several aspects of elephant reproductive physiology as well as being employed by the Myanma Timber Enterprise. She maintains the vital links between the UK-based researchers and the team members and elephants in Myanmar.

Email: emaximus2014@gmail.com
Tel +44 (0) 114 222 0073

Dr Khin Than Win

Khin is a veterinarian and conservation biologist from Myanmar. She has worked in the wildlife department of the Ministry of Forestry in Myanmar for about 20 years. Khin facilitates all aspects of the Myanmar Timber Elephant Project in Myanmar and liaises between the UK and Myanmar teams and the Myanma Timber Enterprise and Government representatives.

Email: khin.t.win2009@gmail.com
Postdoctoral research associates
Postgraduate research students
Diogo Santos

Diogo is a Faculty Scholarship PhD student at the University of Sheffield. He is investigating the relationship between hosts and parasites in Asian elephants. As a veterinarian, he is especially interested in the effect that parasites have on elephant's health. He is also studying the pathology of the elephants, to determine both the main causes of death and the prevalence of blood parasites in this semi-captive population. The main goal is to understand and prevent the death of young elephants and help achieve sustainability of this unique population.

Email: djfsantos1@sheffield.ac.uk
Tel: + 44 (0)114 222 0073

John Jackson

John is a NERC ACCE DTP funded PhD student at the University of Sheffield. The aim of John's research is to develop evidence-based conservation strategies for Asian elephants in Myanmar. In order to achieve this, he is investigating the variation of timber elephant population performance and demographic structure through space and time, reviewing the current management strategies for timber elephants, namely wild-capture, and elaborating on the status of wild elephants in Myanmar and their contribution to the timber elephants.

Email: jjackson8@sheffield.ac.uk
Tel: +44 (0)114 222 0073

Jennie Crawley

Jennie has just finished her Master's project working on the timber elephant project. She looked at how different factors can influence the growth of the Myanmar timber elephants, which is particularly interesting because they are such large, long-lived mammals. Specifically, she assessed how an individual's early life conditions and reproductive investment may affect their age-specific size later in life.

Jennie started her PhD studies at the University of Turku, Finland, in September 2016. She is funded by the EU's Horizon2020, ERC (How elephants grow old / Prof. Virpi Lummaa, 648766 ERC-2014-CoG).

Email: jennifer.a.crawley@utu.fi
Tel: +44 (0)114 222 0073

Simon Chapman

Simon has completed his Master's degree at the University of Sheffield. For his project, he investigated how elephant height and weight changes with age, as well as assessing the existing methods and creating new equations for estimation of these body measurements.

Simon works currently in the Human Life History Group at the University of Turku, Finland (www.human-life.history.science). The project is funded by the Academy of Finland. His research is aimed at investigating the evolution of behaviours and life-history traits, in particular the context-dependence of kin help in humans. Using data from the Finnish population, Simon will explore kin effects on human family success in various contexts, and how this might have changed over time with industrialisation.
ORCID ID: 0000-0003-2342-3383
E-mail: simon.n.chapman@utu.fi
Research students
Pia Angervaniva

Pia is a Master's student at the University of Oulu, Finland, where her studies are focusing on biosciences and genetics. She was doing her Master's degree related internship in the Elephant Project at the University of Turku, supervised by Dr. Robin Cristofari and Dr. Sophie Reichert. Her Bachelor's thesis was also about elephants and the tumor suppressor p53 in their genome.

Susanna Ukonaho

Susanna is an undergraduate student at the University of Turku, Finland. She is currently specializing in evolutionary genetics and data analysis. Her graduate thesis focuses on the effects of seasonal variation on physiological markers of stress in the Asian elephant population from Myanmar.
Local Veterinarians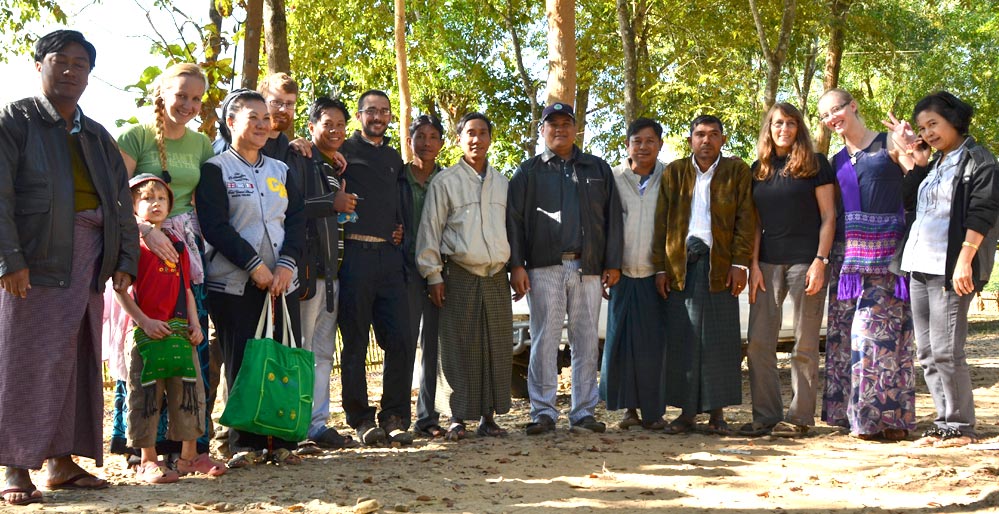 A team of local veterinarians are actively involved in our projects and research by collecting data, providing updates of events in the field and administering veterinary care.
Dr. Win Htut

Dr. Myo Nay Zar

Dr. Aung Thura Soe

Dr. Htoo Htoo Aung
Collaborators
Dr. Hannah Mumby

Hannah is a Draper's company junior research fellow, Pembroke college Cambridge and a Branco Weiss fellow, Department of Zoology, University of Cambridge. She researches how ecology and environment affect the survival, reproduction and stress levels of elephants. She is also interested in how elephants get so big and measures how the elephants grow and what factors influence their growth and maturation. Fieldtrips to Myanmar have fuelled Hannah's interest in protecting Myanmar's elephants and the helping the people who live and work with them.

Dr. Adam Hayward

Adam is a research Fellow at the University of Stirling. Adam's research aims to determine the causes and consequences of variation in life-history traits in natural populations, using a variety of study systems. He is particularly interested in the drivers of variation between individuals in defence against parasite infection and the effects on individual health and fitness and disease transmission. He is also interested in the evolutionary biology of ageing and how early-life events can impact upon later life-history.

Prof. Janine Brown

Smithsonian Conservation Biology Institute, U.S.A. Janine is a wildlife endocrinologist and an expert in methods for measuring stress and sex hormones from faecal and hair samples.

Prof. Susan Mikota

Elephant Care International, U.S.A. Susan is a world expert in elephant biology and medicine, and collaborates with us on elephant parasitology, tuberculosis in Myanmar elephants, and other health-related topics.

Prof. Chatchote Thitaram

Chiang Mai University, Thailand. We collaborate with Chatchote on endocrinological topics such as measuring stress and sex hormones from faecal and hair samples.

Prof. Nikorn Thongtip

Kasetsart University, Thailand. We collaborate with Nikorn on male reproductive function related topics.